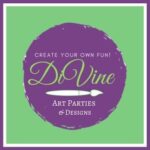 Short Business Description
DiVine Art Parties is an art party business that provides art making experiences for all ages. Step-by-step instructions on how to create a work of art with your family, friends, co-workers and/or Link Sisters.
Long Business Description
DiVine Art Parties is a mobile art party business that provides art activities for both children and adults. On top of the fun that comes with creating art, you get to make memories, share ideas and joy with others. As a result of the COVID-19 pandemic DAP provides virtual classes and mailing art materials. Our mission to create a positive impact on the community through art. We seek to inspire all members of the community to freely express themselves as well as follow their creative passions and dreams.
Visual Arts is the passion of the owner and founder, Rhonda L. Holmes, M.A - a certified art teacher with more than 14 years of K-College teaching experience. As a member of the American Art Therapy Association and a Social Art-working consultant, Rhonda is a skilled art instructor who is sensitive to how art can improve the way we experience life. Her skills are also demonstrated as she models each step of the artistic process during every art party. Her calm instruction, patience and warm personality enhance her expert teaching abilities, making art fun and enjoyable for all ages. Learn more about Rhonda's educational experience: bit.ly/Est1981
Think of DiVine Art Parties as ...
• an alternative to the ordinary dinner and a movie outing.
• an opportunity to raise money for your favorite charity.
• a creative outlet for your facility.
• a time to Cross-sell your products during the party.
• a way to enhance your office atmosphere by using it as a team building experience.
• a great method to increase your business traffic or membership numbers by using it as an open house theme.
To learn more about DiVine Art Parties and how it can work for you, please don't hesitate to contact Rhonda today.
Send Message to listing owner