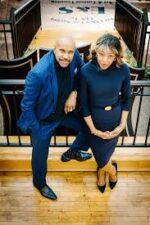 Short Business Description
One of the oldest, largest, most reputable African American fine art galleries in the world. Specializing in custom framing, E&S helps clients build and preserve black fine art collections for future generations.
Long Business Description
E&S Gallery, Inc. (E&S) was established in Louisville, KY in 1989 by Connecting Link Walter Shannon. Today, E&S is operated by Shannon and wife, Link Cathy. Over the course of 30 years, E&S grew from a 2,500 square foot strip mall location, to it's current location - an 11,000+ square foot gallery, custom framing and art publishing company.
E&S is an award winning gallery with a reputation of providing clients with exquisite, award winning custom framing and collectible artwork. Since 2015, E&S has been named "Best Gallery in Kentucky" and one of the "Top 25 Galleries in The U.S." by American Art Awards. E&S offers original and limited edition African American fine art works for sale, including fine art originals, graphics, and sculpture by renowned artists including Elizabeth Catlett, Jacob Lawrence, Richard Mayhew, and Ed Dwight as well as popular contemporaries like Leroy Campbell, Twin, Sherry Shine, Walter Lobyn, Kevin Williams, Norman Wyatt, Jr. and many others.
E&S Gallery has been featured in such national magazines as Decor, Art Business News, Art Trends, Black Enterprise, and Southern Living Magazine. Recognized for professional national exhibitions, E&S has been the official gallery of the Kentucky Derby Grand Gala, Tom Joyner Foundation's Fantastic Voyage, and The Capital Jazz Super Cruise. E&S is also a long time exhibitor with African American female organizations including Odyssey Network Women's Conference, Alpha Kappa Alpha Sorority, Inc., Delta Sigma Theta Sorority, Inc. and The Links, Incorporated.
E&S Gallery is located at 108 S. 10th Street, on 10th Street between Market and Main Streets, in downtown Louisville. The gallery is open Tuesday through Friday 10a to 6p, Saturday 10a to 4p, (EST) and is closed Sunday, Monday and all major holidays. All major credit cards are welcome. Also ask about E&S convenient layaway plans.
Send Message to listing owner